This post on a search engine blog pointed out a series of very strange and incorrect search results returned by Google's search engine. A very complicated "black box," many of the errors described highlight and reveal some aspect of Google's search technology.
My favorite was this error from Google Calculator: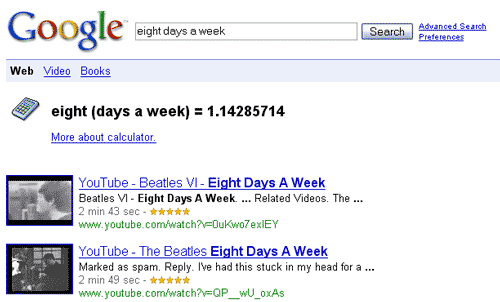 The error, which has been fixed, occurred when users searched for the the phrase "eight days a week" — the name of a Beatles's song, film, and sitcom.
Google Calculator is a feature of Google's search engine that looks at search strings and, if it thinks you are trying to ask a math question or a units conversion, will give you the answer. You can, for example, search for 5000 times 23 or 10 furlongs per fortnight in kph or 30 miles per gallon in inverse square millimeters — Google Calculator will give you the right answers. While it would be obvious to any human that "eight days a week" was a figure of a speech, Google thought it was a math problem! It happily converted 1 week to 7 days and then divided 8 by 7: roughly 1.14.
Clearly, the error reveals the absence of human judgment — but we knew that about Google's search engine already. More intriguing is what this, combined with a series of other Google Calculator errors, might reveal about the Google's black box software.
When Google launched its Calculator feature, it reminded me of GNU Units — a piece of free/open source software written by volunteers and distributed with an expectation that those who modify it will share with the community. After playing with Google Calculator for a little while, I tried a few "bugs" that had always bothered me in Units. In particular, I tried converting between Fahrenheit and Celsius. Units converts between the amount of degrees (for example, a change in temperature). It does not take into account the fact that the units have a different zero point so it often gives people an unexpected (and apparently incorrect) answer. Sure enough, Google Calculator had the same bug.
Now it's possible that Google implemented their system similarly and ran into similar bugs. But it's also quite likely that Google just took GNU Units and, without telling anyone, plugged it into their system. Google might look bad for using Units without credit and without assisting the community but how would anyone ever find out? Google's Calculator software ran on the Google's private servers!
If Google had released a perfect calculator, nobody would have had any reason to suspect that Google might have borrowed from Units. One expects unit conversion by different pieces of software to be similar — even identical — when its working. Identical bugs and idiosyncratic behaviors, however, are much less likely and much more suspicious.
Given the phrase "eight days a week", Units says "1.1428571."